I present you with my 1st
Harry Potter
fanmix and just in time for HP:DH! After seeing HP:OOTP, I decided to make a fanmix of my favorite pairing, Harry/Hermione, and than I decided to mix it up and make it a

Harry/Hermione/Draco

fanmix! So you can find songs to do with these characters, and anything shippy whether it be Harry/Draco, Harry/Hermione or Draco/Hermione. ^__^
It was difficult to find the right tone for Harry Potter, I'm so use to making Supernatural fanmixes. But I hope I captured it and explained it well. If not feel free to ask.
Also, I find a lot of these songs I'm kind relating to Deathly Hollows, and although I do not know the outcome I'm JUST PREDICTING with music. So PLEASE don't think I'm trying to SPOIL you, because I'm not. This is only a prediction and something fun to pass the time until the release of HP:DH!!!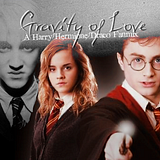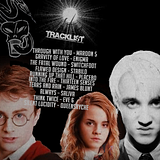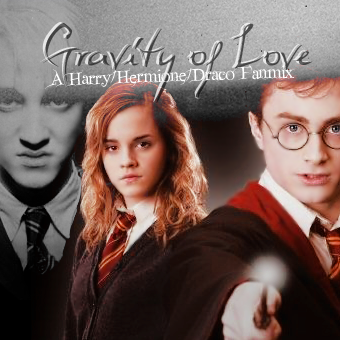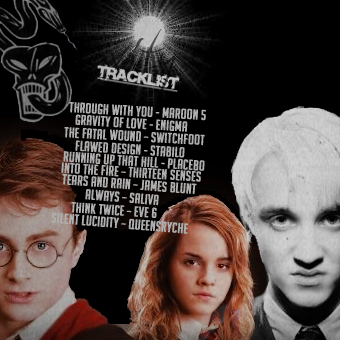 Through with You//Maroon 5
(Draco/Harry)
You ain't ever coming back to me
That's not how things were supposed to be
You take my hand just to give it back

No other lover has ever done that
Explanation: Hermione and Draco just can't seem to sort their relationship out. Is it really over?

Gravity of Love//Enigma




(Harry/Hermione/Harry)


What you need and everything you'll feel
Is just a question of the deal
In the eye of storm you'll see a lonely dove
The experience of survival is the key
To the gravity of love

Explanation: This song I've always felt is great when describing a triangle, and I can't think of any other triangle it would fit better with than Harry/Hermione/Draco.


The Fatal Wound//Switchfoot
(Harry/Draco/Hermione)
This is the real thing
no rubber bullets now
this is the final bow
my breath avoids me
my chest is in my head
my stomach's upside down
down

Explanation: Harry/Hermione, Harry/Draco or Hermione/Draco. No matter how you slice it it comes down to Voldemort and whats to come.


Flawed Design//Stabilo
(Draco)
'Cuz I lie
and if I could control it
Maybe I could leave it all behind
Yeah, I lie
and I don't even know it
Maybe this is all a part of my
Flawed design

Explanation: I just feel this songs fits Draco, not perfectly, but enough to keep me thinking about him while I listen.


Running Up That Hill//Placebo
(Harry/Hermione/Draco)


You don't want to hurt me,
but see how deep the bullet lies.
Unaware that I'm tearing you asunder.
There's a thunder in our hearts, baby
Explanation:
Betrayal, Love, Hate and Sacrifice. This song just works. Another song I just have a feeling relates to

Deathly Hollows

and the possible outcome.


Into the Fire//Thirteen Senses
(Harry/Draco)
Come on, come on
Put your hands into the fire
Explain, explain
As I turn and meet the power
This time, this time
Turning white and sense dire
Pull up, pull up
From one extreme to another

Explanation:
Harry wants things to go back to the way they were before the Dark Lord swayed Draco. However, Draco wants Harry to join him.
Tears and Rain//James Blunt
(Draco and Harry)

How I wish I could walk through the doors of my mind;
Hold memory close at hand,
Help me understand the years.
How I wish I could choose between Heaven and Hell.
How I wish I would save my soul.
I'm so cold from fear
Explanation: This is a take on HBP and Draco's reaction, as well as Harry's.

Always//Saliva
(Harry/Draco or Hermione/Draco)

He spreads her love
She burns me up
I can't let go
I can't get out
I've said enough
Enough by now
I can't let go
I can't get out
Explanation: I think it's pretty self-explanatory. ANGST!
He spreads her love
She burns me up
I can't let go
I can't get out
I've said enough
Enough by now
I can't let go
I can't get out
Explanation:
Harry basically telling Draco to stay away from his girl. But Draco doesn't back down so easily.
Wipe away the teardrop from your eye
You're lying safe in bed
It was all a bad dream
Spinning in your head
Your mind tricked you to feel the pain
Of someone close to you leaving the game of life
So here it is, another chance
Wide awake you face the day
Your dream is over...or has it just begun?
Explanation: Hermione and Harry after Voldemort is destroyed. And nothing seems the same after losing loved ones.
COMPLETE ZIP

OF ALL 10 SONGS (47,10 MB)>MEGAUPLOAD
I'm sorry, but the covers are not in the Zip, I totally forgot about them.


PLEASE COMMENT. I work really hard on these fanmixes and I would appreciate it if you commented with your thoughts. :)
Current Mood:
annoyed
Current Music: Behind Blue Eyes - Limp Bizkit